Solar Lighting Systems
With the passage of each single day, the importance of saving power for the future generations is being realized by every individual. Measures are being taken up to save the fossil fuels from getting depleted, as they are non-renewable source of energy. Solar lighting systems are one the measures to utilize the unbound sun's energy. Solar lighting systems work on simple basics, i.e. they trap the solar energy and convert it into electricity that lights up the LED (light emitting diode) present inside them, when there is darkness. Solar lighting systems have photovoltaic modules integrated in them that convert the solar energy directly into electricity.
These solar lighting systems are very handy and easy to install. There are no extensions or wires required to install them. They can be placed about anywhere, from wall, fences, grounds, patios, anywhere. All it needs is to be placed in direct sunlight, so that it gets recharged in the day time and lights up during the night. There's a variety of solar lighting systems available in the market today. It all depends on the customer's requirements, as to what kind of solar lighting systems they want to set up in their house.
Solar lighting systems differ in design, color and the amount of lighting they provide. They also vary in their working systems. There are some solar lighting systems that light up automatically, after a certain point, when the light gets diminished. There are other types which have motion sensors positioned in them, that makes them light up the minute when there is some motion detected in a certain amount of radius. Then, there is another type of solar lighting systems that have a manual switch attached to it. Finally, there are some that are time monitored, i.e. they light up for a set time period according to the user's needs.
Solar lighting systems are being used in different areas because of its versatility. Motion sensor solar lights are mounted in the households for security reasons. Light sensitive solar lights are placed in the gardens to add to its beauty and light up the pathways during the nights, without any extra cost. Solar lighting systems are being used in the shop signs, which get charged up during the day and light up during the night. Traffic signal lights are one of the best places that are utilizing the solar energy. They are better than those lights that run on unreliable batteries. It helps in saving a huge amount of government's money as they are powered by the free source, sun. Solar lighting systems are also being applied in the bus stands, parking lots and streets lights. All these places are always under the sun and to make the best use of sun's energy here is a wise decision.
Solar lights are cost effective, hassle free and don't have any maintenance cost. These are the answer to the energy problems of the present as well as the future. The solar lighting systems help the people in going Green, who want to save the nature for future.
This is how you reduce electric bill…..sun dry clothes
My first car was a 1979Volkswagen Rabbit ,  and it has about 78K miles. I bought it at a used car lot in Tulsa Oklahoma for about $1500, in the year 1983. Big Mistake!


It was a piece of junk.
The used car salesman was a big fat liar, told me it has air con and was well conditioned. Well, no air con, it was fan cooled and the door does not close well. That was already a clue that the car was in a wreck.
My friend used to make fun of me telling me that my car just take in Carrots, after all it is a Rabbit .
Since it was my first car, I figure it was a good learning experience – a real expensive$$ experience indeed. Anyway, I learned a lot about fixing car. I replaced the starter, pump and etc all by myself. It was like a hobby.
About the used car lot—I went in the office and saw a couple of gunny sacks on the floor and saw something moving in there. Guess what? They were rattlesnakes.
Why? They let them loose at night. They were used for night time watchmen…go figure.
My next vehicle was a 1986 Nissan King Cab Truck. Now, that was the best truck I ever owned.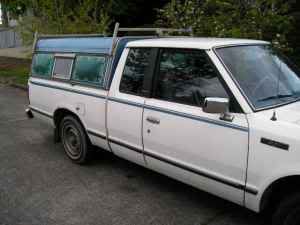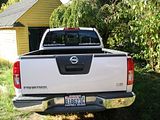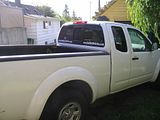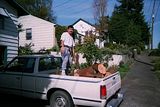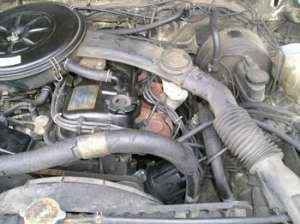 I was working for American Airlines in Tulsa and I saw this gorgeous white truck, it has a for sale sign. It was like a needle in a haystack. So happened the truck was parked quite close to my rabbit at that time in the huge parking lot.
I called the owner and we took a test drive and instantly I fell in love with her. I knew we have a sense of good karma. The owner name was Tom and I paid $6500, cash for the tuck. I think I got a good deal as he only owned the truck for less than 3 months and have only 2K miles. He paid about $8K for it. Since I was paying cash, he gave me a good deal. The main reason he was selling the truck was that his wife did not enjoy the "bumpy" ride of the truck.
I got rid of the Rabbit at $500 after using it for less than 3 yrs.
Now, let me tell you about that  85 Nissan King Cab truck. Even I bought it "used", it felt like brand new. The smell of the leather.
Man, I used the truck for camping, fishing, hauling, etc etc , watching /gazing stars at the bed of the truck and even have SEX with my girlfriend/wife. Whopeeeeeeeeeee.
I drove the truck all over the South- Texas, Colorado, Missouri, Wichita, Denver,and all the way to Seattle where I make my home now.
We moved from Tulsa to Seattle in 1989, got married and raised my kid at the back of the truck. My kid love the back of the truck, sleep and playing with her toys. Moving from the Okie state to Seattle…that another story of my life.
We traveled all over the Pacific Northwest, to Canada –camping and fishing on that truck.
Man, I have so much fun with that Nissan King Cab. I even taught my daughter how to drive that truck and she even passed her driving test using that truck.
Well, unfortunately, it was in Feb of 2007, when the Nissan finally took her toll.  I was driving on the West Seattle Bridge one afternoon and then I heard a hard knock coming from the engine. She lost power and I managed to pull her to my mechanic's garage.
Bad news – no point fixing any more and time to buy a new one. It was going to cost me like $2k to replace/rebuilt the engine. Well, time for a new….
My friends, after 22 years with my old faithful, with 201K miles, it was time to let the Nissan King Cab go. Man, I took care of her very well, oil change every 3K miles, and fix whatever needs to be fixing.
That Nissan King Cab was with me for 22 yrs, with my family and raised my kid in there. So sad to see her go.
So much good memories !!!
Anyway, I sold that truck to a Kid for just $100,( with canopy, and still good tires, clean body( Please see the photos of the tucks). He wanted it for a project, so I guess it was put in good use.
Guess what, the next one was………you guess it right—a brand new 2007Nissan Frontier, bigger truck-more power and so comfy. She gives me 18mpg in town and 21mpg on highway. The other truck gave me about 21mpg.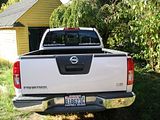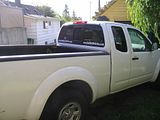 See photos.
I bought her in February of 2007, the asking price was $19K. Well, I bargained down to $17K and paid in cash again. I have not used the pickup much as it has only 18K miles after 32months and the only long trips I took was to Utah and to Oregon. Oh well…..
Well, my next new vehicle will be the Nissan Leaf…
Heck, maybe Nissan Company might give me a free Nissan Leaf car as I am a genuine Nissan died hard and they can even use me in their commercials.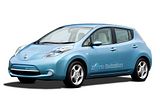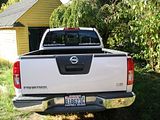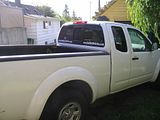 Here it is, folks: the all-electric car Nissan plans to start selling next year, shown for the first time at an event this evening in Yokohama, Japan (and simultaneously unveiled on the automaker's web site). Called the Nissan LEAF, it's a five-seat hatchback set to roll out in the U.S., Japan and Europe in 2010 at a price that the company says is "comparable" to a mid-size family sedan, and with a range of more than 100 miles. What do you think?